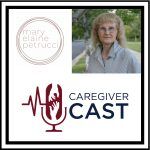 Housing transitions in life are difficult, much more so for an aging parent and their kids. Mary Elaine sits down in a conversation with Greg Hollander to talk about The Next Stage Method. This method addresses the downsizing needs, from settling their home and finding a new living environment, to working with special services to attend to a senior's specific needs. With The Next Stage Method, the process will be made as easy as humanly possible.
Are you a senior who is contemplating on downsizing? Or are you a child who worries about your parent living all alone and finding the best possible placement for your mom or dad? Or perhaps you are a caregiver who's worried about broaching the subject of downsizing to your care recipient? Then this episode is definitely a great help for you. Tune in.
Outline of the episode…
Who should be considering downsizing?
What is the Next Step Method?
Are there specific things that the client should be either asking or thinking about when they're downsizing?
How do you work with the adult children around your client?
How to approach housing transitions respectfully with your parents?
When thinking about downsizing, what kind of things should they be prepared for?
And many more!
~
About Greg Hollander:
Greg Hollander is a full-service Real Estate Sales professional in the City of Ottawa. After working with many senior clients, he discovered that his skills and strengths are perfectly suited for helping people with their downsizing needs. He works hard to ensure his clients are always treated with respect, kindness, and understanding.
Greg's wish is to help make a potentially stressful situation as smooth as possible for his senior clients and considers it an honor and a privilege to be the agent guiding people through their Next Stage in life when it comes to their real estate and housing needs.
Catch Greg Hollander on…
Connect with Caregiver cast Podcast…