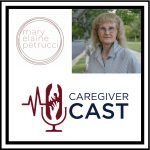 We often promise to change something that is not beneficial to ourselves. Yet, we also often see ourselves spiral back to that old unwanted nature. Habit transformation coach, Kim Allen, shares the secret to remedying this unending cycle. This transformation would bring a great impact on the well-being of caregivers for a more rewarding caregiving journey. Make sure to tune in to this episode of Caregiver cast with your host Mary Elaine to know more!
Outline of the episode:
Kim's healing journey
An assessment that will identify internal and external habits
Guilt and healing for caregivers
Meaning of acceptance and forgiveness
Habit transformation process
About Kim Allen:
As a Habit Transformation Coach, Kim helps professionals shift their habits of thinking so they can break through self-limiting beliefs, overcome obstacles, and gain clarity in their life, business, and relationships.
Catch Kim Allen on…
Connect with Caregiver cast Podcast…
Follow the podcast and Mary Elaine Petrucci on:
https://www.caregiverlifelinecommunitypodcasts.com/
Website: www.caregiverlifelinecommunity.com
LinkedIn: https://www.linkedin.com/in/maryelainepetrucci/
Facebook: https://www.facebook.com/maryelaine.petrucci
Twitter: https://twitter.com/ExpertElaine
Instagram: https://www.instagram.com/healthcare_expert/
Don't forget to join Mary's Facebook Group, Caregiver Lifeline Community; https://www.facebook.com/groups/373423030311924