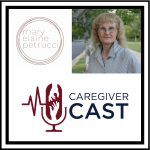 Tune in as Alice Pettey opens up about the character-testing life of parents with special needs children in today's episode 24 of Caregiver Cast!
In this episode of Caregiver Cast, join your host Mary Elaine Petrucci with Alice Pettey as they talk about Alice's discoveries about herself, the people around them, and the institutions that serve us as a parent to a son who suffered Smith-Magenis Syndrome. The Smith-Magenis Syndrome is a condition that affects 1 in 15,000 individuals.
Here, Alice gives an honest talk on the impacts of special needs on families, how educational and health facilities fail in their approach to special care, and her #1 advice to parents when speculating the right school for children with special needs.
In this episode you will learn:
Alice Pettey – on where the public school system falls short
You can't fully understand special care until you have to give it
Are health facilities generally equipped for special care?
Every institution must advocate for special needs!
Sleep deprivation is severe for parents with special children
About Alice Pettey:
Ms. Pettey has over 20 years of experience in providing design services. She started her foray into graphic design in 1999 when she enrolled in a graphic design certificate program through Session School for Professional Design. From there, Ms. Pettey completed a multi-media certificate and moved into working as an in-house graphic designer. After working at an interior design firm, mortgage brokerage, and as a freelance designer. Ms. Pettey eventually became the design point-of-contact for the Americas service areas of an international infrastructure firm.
In 2012, after corporate outsourcing of design functions, Ms. Pettey once again moved to provide graphic design services from a freelance position. After completing a Master of Fine Arts Degree in Media Design, Ms. Pettey incorporated into an LLC (Alice Pettey Branding & Strategic Design) at the end of 2014. In 2019, Alice Pettey Branding & Strategic Design, LLC took on the trade name of Neurotic Dog Studios.
With the shift in services that occurred during the 2020 pandemic, Ms. Pettey was able to pursue a long-desired certification as a Brand Specialist. In early 2021 Ms. Pettey was certified as a Brand Strategist.
Connect with Alice Pettey :
Website: https://neuroticdogstudios.com/
Follow the Caregiver Cast podcast and Mary Elaine Petrucci on:
Caregiver Cast: https://www.caregiverlifelinecommunitypodcasts.com/
Website: www.caregiverlifelinecommunity.com
LinkedIn: https://www.linkedin.com/in/maryelainepetrucci/
Facebook: https://www.facebook.com/maryelaine.petrucci
Twitter: https://twitter.com/ExpertElaine
Instagram: https://www.instagram.com/healthcare_expert/
Don't forget to join Mary's Facebook Group, Caregiver Lifeline Community; https://www.facebook.com/groups/373423030311924